Welcome to the Mount Washington Valley Bicycling Club!
Things you might like to know...

A terrific, fun opportunity AND support for the MWV Bicycling Club at the second annual Great Glen Trails Charity Day...
WHEN: Saturday, March 10th, 8:30am to 3:00pm
WHERE: Great Glen Trails Outdoor Center, Pinkham Notch
WHAT:

- Anyone who makes a minimum donation of $25 per person ($15 ages 5-12) can enjoy free skiing, tubing, snowshoeing and a buffet lunch!
- Anyone who makes a minimum donation of $50 per person ($30 ages 5-12) also gets a ride on the Mt. Washington SnowCoach* to treeline on the Auto Road! (*only available for the first 32 registrants.)

HOW: Fill out the form (CLICK HERE) to pre-register and mail it to the address on the form along with your donation made out to the MWV Bicycling Club.
Last year, Great Glen Charity Day raised over $2,500 for local charities! This year they plan to at least double that. Please register and help spread the word ... it's a WIN WIN WIN!!

Save the date:
The MWVBC Annual Spring Season Kickoff Meeting is planned for Thursday, April 5th, 2018 from 5:00 to 7:00 at the Red Fox Bar and Grille in Jackson, NH.

The MWVBC now has a "For Sale" page on this website.
The page is for posting member's bicycling-related items they would like to sell. Send a concise item description and photos to: forsale@mwvbicyclingclub.org

Have pictures from Club Rides or Events?
Send them to: photos@mwvbicyclingclub.org and you may get them posted on the Club website Photo Gallery Page or on the Club facebook page.

Note: When the weather is not conducive to enjoyable cycling- rides are considered cancelled without notice. If the ride leader decides to cancel in advance of the day of the ride, a notice will usually be posted on the Club Calendar.​​



Always check the

CLUB EVENTS CALENDAR for the latest on all Club rides and events.
---
In 2017-
The Club partnered with White Mountains NEMBA to provide a public Bicycle Repair Station and a Memorial Bench to honor the late Greg "Muzzy" Muzerall. Both are on the Marshall Conservation property near the railroad crossing on West Side Road in North Conway. Muzzy loved everything bicycling, was an avid mountain biker, and a preferred source for bicycling advice and service in the Mount Washington Valley for many years.
The Repair Stand provides repair tools and air, suitable for both road and mountain bikes. It is located just beyond the far end of the parking lot. Signs have been placed on both sides of West Side Road to let passing road cyclists know it's there.
The Memorial Bench is located further into the Marshall Conservation Property at the junction of the "Lager's Lane", "Shumway", and "Muzzy" Mountain Bike Trails.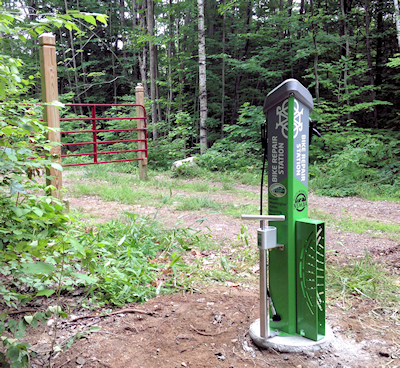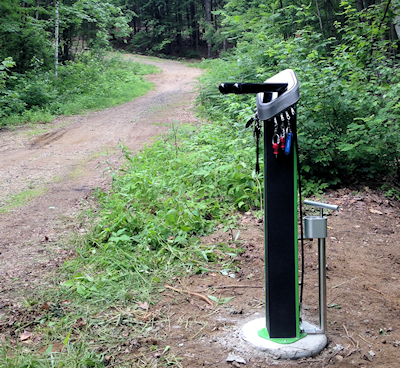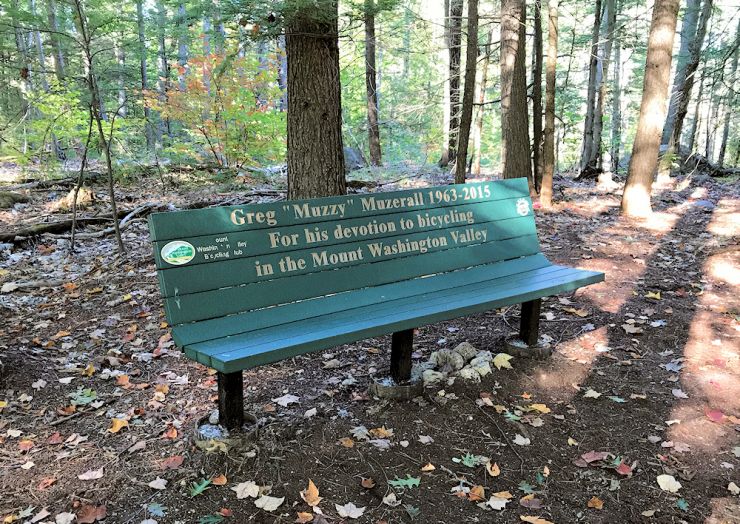 ---